Our lives, and most of all, the ways we consume products and services, have been disrupted over the last two decades. We're now looking for services that are not only personalized, fast, simple, accessible, and centralized… but also highly appealing to us!
Parallel to personalizing diagnosis and care, tailormade e-health solutions are emerging to help patients self-manage. These are personalized, digital interfaces that adapt to patients' needs in successfully navigating their treatments, care pathways, paperwork, and other aspects of daily life.
What is d.tells™?
d.tells™ is Observia's smart personalization engine. It combines SPUR™ with our AI engine to identify the best strategies to support each patient.
d.tells™ creates a personalized engagement plan that truly fits each patient. It determines the best features and content to be delivered, to ensure patients only receive relevant, tailormade info.
This automated smart personalization process better allocates resources within the solution, which is meant to improve patients' experiences and outcomes.
How does d.tells™ work?
Here's how the process goes. The d.tells™ AI engine chooses the most appropriate content and features from the solution library. Then, it distributes these to patients over the different communication channels. It keeps on adapting the frequency of messages and notifications, their duration, and even their tone!
Three types of data can feed our smart engine:
Patient profiling data – socio-demographic data (age, gender, etc.), medical data (treatments, diagnostic year, etc.), and behavioral profile data from SPUR™ outputs
Usage data – how the user interacts with the solution (frequency and quality of interactions, level of knowledge, etc.), plus our empirical knowledge on how patients tend to interact and behave
Patient preference data – g., preferred channels or topics of interest
For each solution, Observia's teams configure d.tells™ algorithms to match project scope and parameters.
What we customize:
Solution objectives and desired behavioral targets
Depth of the content library (number of topics covered and of message variations available)
Available channels and functionalities/features
Available data inputs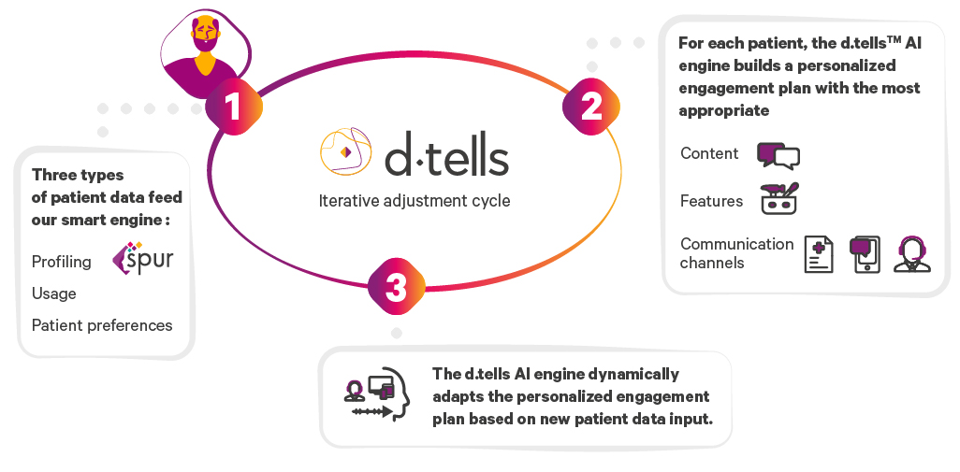 Why use d.tells™?
Personalizing e-health services can have many positive effects.
From patients' perspective, they receive a more customized and engaging experience all along their care pathways, in harmony with their needs, preferences, and personalities.
From care teams' perspective, they can offer patients more relevant and tailormade support, in addition to medical care.
From industrialists' perspective, they can optimize resource allocation to more efficiently engage patients and support e-health digital initiatives and other solutions to improve patient services.
From public health stakeholders' perspective, they can optimize healthcare provision.
The end-result is the optimization of the patient experience and care pathway all at once—with impact going up and costs going down. The icing on the cake is that, though the algorithm is complex, it all happens in the background, leaving the patient (and their healthcare team) with a simple, smooth user experience.

How is d.tells™ applied?
This instrument has two distinct applications:
New patient solutions
From the start of the project, we will configure d.tells™ to ensure the best level of personalization and impact in the end.
Existing patient solutions
We can upgrade any existing patient e-health initiative by adding in d.tells™. This tool improves patient experience. It drives stronger patient outcomes and better resource allocation. Our API makes this possible, and our team will handle it for you.
More about our products
Discover our new generation of evidence-based tools to support efficient patient behavioral change and improve the user experience.
Insights
Patient and caregiver engagement Living with a chronic disease can be a lonely experience. Patients may feel isolated or misunderstood duri...
Discover

- solike facilitates mutual support and exchange between patients and caregivers- New platform fuels Bayer and Observia's commitment to prov...
Discover
Need more information?
Experience a live customized demo led by one of our experts and get answers to all your questions!